Docks and Lifts
Quality products to protect your investments so you can enjoy more water time.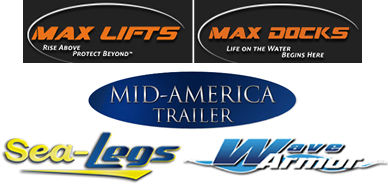 As an authorized dealer, we are able to offer the best in accessories which include sea-legs, docks and dock accessories, lifts and canopies, float ports, pontoon trailers, floating rafts, kayak racks and more! Our team will help guide you in selecting the products that will work perfectly for your location and watercraft.
PREOWNED ITEMS - We occasionally have preowned boat and jetski lifts. The availability of these items changes rapidly, so please call for the latest inventory.
---
The World's Best Portable Hydraulic Pontoon

Sea-Legs is the pontoon lift that goes where you go! Raise your Sea-Legs and go, lower your Sea-Legs and park -- at your dock, sandbars, restaurants, visiting neighbors, shore fishing, getting gas, and more. They are the best portable hydraulic pontoon and are proudly made in the USA!


---

Highest Quality With Endless Configurations

Max Docks and Wave Armor Floating Docks are the best in the industry. Our staff can help you select the perfect dock for your space with the configurations and options to meet all your needs. We also have a variety of dock accessories to help you enjoy the water and have easy accessibility to your boats and water toys.

Dock products offered but not limited to include:

Docks & Poles
Floating Docks
Regular & Heavy Duty Bumpers
Bumper Wheels
Dock Benches
Free Standing 3, 4, 5, & 6 Steps

---

Innovative Solutions to Care and Protect

Max Lifts offers extraordinary value, quality, innovation, and an industry leading warranty on modular docks, boat lifts, roll-in docks, floating docks, dock accessories, and boat lift accessories.

Wave Armor PWC Float Ports are tough for extreme performance and durability and are foam filled for a virtually unsinkable investment. These PWC Ports are the easiest Drive On/Roll Off Port in the market.

LX Wave Port (Large Wave Runners)
APEX Sport Port (Small Sea Doo Spark)

---

Other Items We Offer

Otter Island Swim Rafts are perfect for kids or adults! The deluxe swim raft includes backrests, a pop-up table and a pontoon-style bottom for ultimate stability.

Kayak Racks that work with unviersal-type docks and Wave Armor floating docks. These are a sturdy and stylish way to store your kayaks near the water where you use them.

Mid-America Float On Trailers made with the highest quality materials to ensure it will be durable, easily maintained and dependable service.

Otter Island Floating Rafts
Kayak Racks
Pontoon Trailers
And More!

---